Transportation Services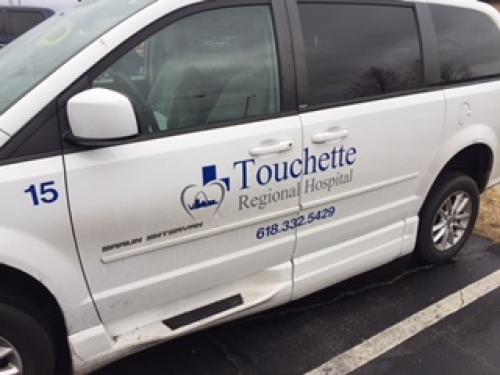 Transportation is readily available for patients who need a way to and from medical appointments and health education programs. With a fleet of 7 vehicles, this first-of-its-kind program has increased patient well-being by providing transportation to wellness visits and education sessions.
We have served Alorton, Cahokia, Centreville, East St. Louis, Fairmount City, and Washington Park for over 10 years.
To contact Touchette's Transportation Services, please call: 618.332.5429
Rights Under Title VI
Touchette Regional Hospital operates its programs and services without regard to race, color, or national origin in accordance with Title VI of the 1964 Civil Rights Act. Any person who believes that she or he has been aggrieved by any unlawful discriminatory practice under Title VI may file a complaint with our agency. Any such complaint must be in writing and filed with this agency within 180 days following the date of the alleged discriminatory occurrence. For information on our nondiscrimination obligations or how to file a complaint, please contact Touchette Regional Hospital by any of the methods listed below.
Touchette Regional Hospital
Transportation Department
5900 Bond Avenue | Centreville, IL 62207
Phone: 618.332.5429
Fax: 618.332.5430