Behavioral Health & Wellness
Behavioral Health & Wellness
Are struggling with your mood? Feeling depressed? Anxious?
Are you feeling overwhelmed or finding it difficult to handle your emotions?
If you'd like someone to talk to but you are unsure who to call . . . We can help.
Call our Intake Line -
618-332-4038
24 hours a day, seven days a week
For Outpatient Behavioral Health Services please contact 618-332-5374.
Offering Quality, Compassionate Mental Health Care for the Region
Mental illness touches all walks of life, and individuals dealing with mental illness deserve quality care regardless of their financial status.
Touchette's expanded Behavioral Health & Wellness Center offers outpatient and inpatient care in a warm and welcoming environment combined with dedicated clinical staff and evidence-based best practices.
Treating the Whole Person
For nearly 60 years, Touchette has treated a variety of health conditions, such as anxiety, depression, schizophrenia, mood disorders, and other mental illnesses, through client-centered recovery. Now with our new state-of-the-art center, we can serve more individuals throughout St. Louis and Southern Illinois.
An Open Concept to Care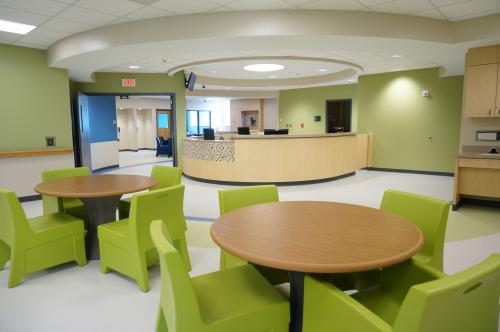 With our Behavioral Health & Wellness Center's open concept and person-centered recovery model, clients are encouraged to interact with fellow patients and staff members through group psychotherapy including: activity therapy, recreational therapy, substance abuse groups, and support groups. The center offers natural light to ease the symptoms of depression and self-service refreshments and private phone areas to give clients a sense of autonomy. The center's enhanced security features protect the safety of clients, staff, and visitors.
Touchette offers a high staff-to-client ratio. Clients and their families have direct access to a full staff of experienced therapists, nurses, psychiatrists, psychologists, and psychiatric pharmacologists. All staff members work in sync with each patient's healthcare providers to ensure all their healthcare needs are met, not just their emotional needs.
For more information, please call our 24/7 referral line at 618.332.4038 for both inpatient and outpatient services.
How Do I Know if I or a Loved One is Suffering from a Mental Health Emergency?
Click a topic below to learn more about these common mental health subjects: