Ophthalmology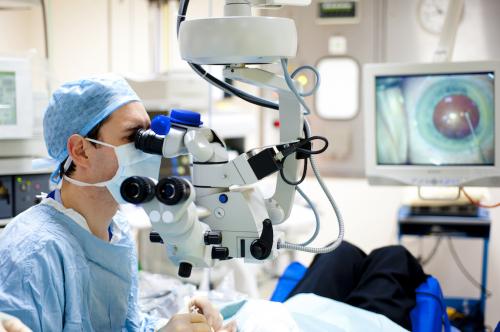 A medical specialty dealing with the anatomy, physiology, and diseases of the eye.
The ophthalmology services offered through Touchette Regional Hospital encompass specialty medical care for diabetic patients as well as providing vision screenings for children's school physicals.
Most of the time, patients are referred to our ophthalmologists by their primary care provider if they need treatment as a result of the following:
Bulged eyes
Cataracts
Diabetic retinopathy
Dry eyes
Excessive tearing
Eye tumors
Glaucoma
Macular degeneration
Misalignment/deviation of eyes
Refractive surgery
Uveitis
At Touchette Regional Hospital, we employ ophthalmologists that are credentialed in numerous health plans. The physicians, RNs, medical assistants, and clinical service representatives, as well as licensed physician assistants and certified nurse practitioners are proud to offer exceptional care tailored to your needs.
If you notice disturbances or irregularities with your eyes, have it checked by your doctor and ask for a referral to come see us.
Our Ophthalmologists are located at Archview Medical Center, 2071 Goose Lake Road in Sauget just off Interstate 255 in St. Clair County.
Our Ophthalmologists:
For more information, please call us at 618.857.2700.