News & Events
Touchette Regional Hospital Brings Senior Healthcare Services Home
March 7, 2018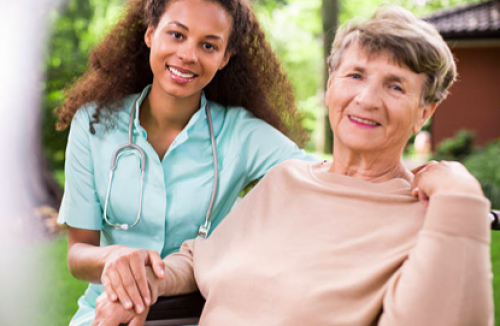 Touchette Regional Hospital wants to remind the public of its home healthcare service offered to area senior citizens. Through this program, trained medical professionals at Touchette will help seniors needing extra care and assistance as well as those taking on the role as a care-giver.
One valuable tip Touchette wants to emphasize, is the importance of allowing an aging individual to maintain their self-worth. As a caregiver, include them in conversations related to their care and ask them their thoughts regarding medical recommendations.
"Allowing your loved one to help make decisions pertaining to their own health will strengthen their dignity and feelings of independence," says Dr. Charles DuMontier, Vice President, Medical Affairs at Touchette Regional Hospital. "If their ability to process information slows or their memory occasionally fails, reconsider ways for them to actively participate. One option is to write out a prioritized list. Seeing an organized list, repeatedly, can help them fully understand what is most important regarding their care."
Touchette Regional Hospital's Home Health program delivers services to the homes of recovering, disabled, chronically ill or terminally ill senior citizens. Skilled home healthcare allows elderly patients to stay in the comfort of their own home while receiving the medical attention they need. The qualified program professionals have more than 200 years of collective home care experience. Call Touchette at 618-332-6120 to discuss options.
###
About Touchette Regional Hospital
Touchette Regional Hospital has proudly served the communities of the Metro-East for more than 60 years. TRH offers high-quality Cardiopulmonary, Laboratory, Radiology, Southern Illinois Home Care, Physician Specialty Services, Pharmacy, Transportation, Physical Therapy, Senior Care Services, Community Health Connections, Start Now Cancer Awareness Program, Obstetrical Services, 24-hour Emergency Department, New Vision/Substance Abuse Program, Special Needs Dentistry for children, Behavioral Health (inpatient and outpatient), Medical/Surgical/Telemetry, Intensive Care and Surgical Services (inpatient and outpatient). For more information, visit www.touchette.org.