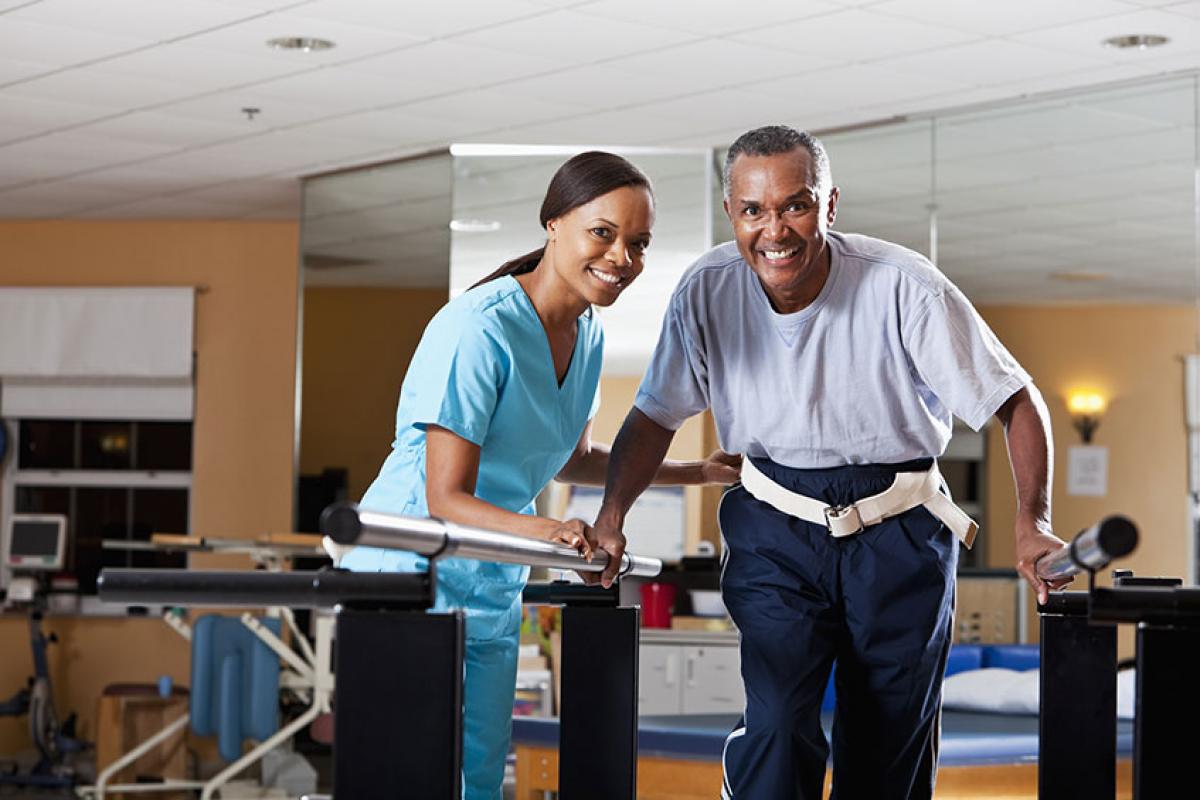 Physical Therapy Services
TRH partners with Professional Therapy Services, Inc., to provide outpatient rehabilitation services at three convenient locations:
Touchette Physical Therapy - Centreville
Located at Touchette Regional Hospital
5900 Bond Avenue | Centreville, IL 62207
Phone: 618.332.5450
Days & Hours: Monday - Friday | 7:30 a.m. to 4:00 p.m.
Touchette Physical Therapy - Sauget
Located at Archview Medical Center
2071 Goose Lake Road | Sauget, IL 62206
Phone: 618.337.9461
Days & Hours: Monday - Friday | 7:00 a.m. to 5:00 p.m.
Touchette Physical Therapy - Belleville
Located at Copper Bend Plaza
2810 Frank Scott Parkway West, Suite 824 | Belleville, IL 62223
Phone: 618.416.4903
Days & Hours: Monday - Friday | 8:00 a.m. to 4:30 p.m.

Increase your Mobility and your Quality of Life
Do you have back or joint pain?
Do you have trouble doing the activities you used to do?
Do you have trouble maintaining your balance?
Did you injure yourself during sports or another activity?
Are you recovering after surgery or a recent trip to the hospital?
All of these issues can be managed with physical therapy, often times, with great success.
While every treatment plan is different, most include specific exercises, treatments, and education to improve your lifestyle and overall physical function. Our team of experienced physical therapists and physical therapist assistants will partner with you to achieve your goals.
Do I need a doctor's referral?
Not necessarily. While your doctor may have issued orders for physical therapy, Illinois law now allows direct access by patients for physical therapy. Allowing access to the care you need on your terms.
Will insurance cover my physical therapy?
Our staff will verify that your insurance or worker's compensation will cover your physical therapy.
Call today to schedule an appointment at one of our three locations.
Specialty PT Programs
COVID-19 Wellness Program: Designed to assist those who are isolated at home, due to the Coronavirus to improve their quality of care and life through online assessments and treatment. Trained therapists will do an individual evaluation via our patient portal and provide home exercise instructions and education on how to help combat the prolonged symptoms related to this disease.
P.E.A.K. Chronic Pain Program: Personal Empowerment Active Knowledge - Our specialized program for patients suffering from chronic pain to help them understand and live with their pain with the end goal of an improved quality of life.
JUMP START Program - Designed for patients who have multiple medical complications and who want to or need to start a regular exercise program. Trained therapists will do an individual evaluation and help you learn safe and effective exercises to help with weight loss and to improve your overall long term health.
Stand Strong - This is geared mainly toward the senior population or any other individual with impaired balance. Patients will work with therapists to improve balance, strength and overall confidence and safety with movement and walking to reduce fall risk and improve enjoyment of life.
Vestibular Rehabilitation - A specialized form of exercise-based therapy primarily designed to reduce vertigo and dizziness, gaze instability, and balance disorders.
AlterG® - With AlterG® patients, seniors, and athletes can defy the forces of gravity and push their boundaries to recover sooner, improve physical function, and enhance performance like never before. Check it out here.
Women's Health - A specialized treatment program for women in our Pelvic Health Specialty Clinic. Each patient receives a comprehensive evaluation followed by an individualized treatment program for those diagnoses treated (but not limited to): Urinary incontinence, Urinary urgency/frequency/retention, Constipation/incomplete emptying, Painful tailbone/coccydynia, and Interstitial Cystitis.