News & Events
Touchette Regional Hospital Offers Tips to Avoid Heat-Related Incidents This Summer
July 3, 2018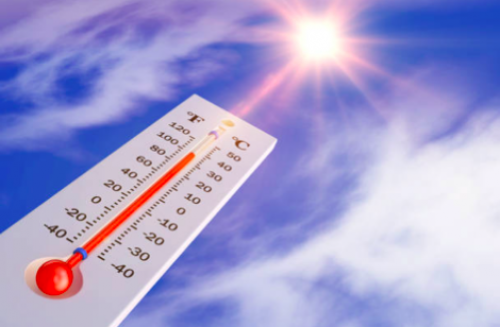 Touchette Regional Hospital is offering tips to help individuals avoid heat-related incidents this summer. Typically, during the months of July and August, visits to the Emergency Department (ED) increase and are often the result of overheating.
"A heat-related illness, such as heat exhaustion, is caused by the body's inability to cool itself," says Dr. Richard Shaffer, Medical Director of Touchette's Emergency Department. "This is why sweating is so important; it is the body's natural way of cooling off. A person may overexert in sweltering heat and suddenly stop sweating. This is a red flag and the start of a potentially dangerous situation. They need to get out of the heat quickly, start hydrating, and let their body cool down."
If being outside is unavoidable, take the time to get acclimated to the temperature. Don't jump right in to working or exercising in the heat until your body is used to it. It's important to note that it can take several weeks for a person's body to adjust to extreme heat.
Pay close attention to heat exposure and certain medications. Some prescription drugs can affect the body's ability to stay hydrated. Take extra precautions by keeping a bottle or two of water close by.
Cigarettes can also heighten the risk of heat-related illness. Nicotine constricts blood vessels, which can impair the body's ability to adapt to heat.
When you experience a minor injury, a major accident or a sudden illness, Touchette Regional Hospital's ED team is available 24 hours a day to provide fast, quality and compassionate medical care. The ED is equipped with medical experts and advanced technology to ensure every patient receives the best care. For more information, contact us at 618.332.5481 or dial 911 in the event of an emergency.
###
About Touchette Regional Hospital
Touchette Regional Hospital (TRH) is a 137-bed facility that has proudly served patients throughout Illinois and Missouri since 1955. TRH offers cardiopulmonary, laboratory, radiology, physical therapy, 24-hour emergency care, medical/surgical/intensive care as well as a Behavioral Health and Wellness Center that opened in 2016. Touchette Regional Hospital system consists of its hospital campus as well as Home Care and Medical Specialists Center. Home Care provides in-home nursing and physical/occupational services to recovering disabled, chronically ill or terminally ill persons. The Medical Specialist Center is a multi-specialty group of physicians who are committed to providing quality specialty healthcare to patients in our region. For more information, visit www.touchette.org.