Blog
Tips to Combat the Flu
November 1, 2018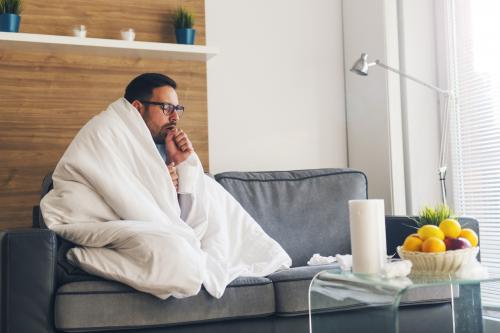 This year marks the 100-year anniversary of the 1918 influenza pandemic. The virus was so severe it resulted in an estimated 50 million deaths worldwide, 675,000 of those in the United States. Since 2010, the flu has been responsible for between 12,000 and 56,000 deaths each year. Although we have made great strides in controlling and treating influenza, it is still a very serious illness. The staff at Touchette Regional Hospital is gearing up for this year's flu season and wanted to share a few pointers to keep you healthy, happy, and flu-free.
Get your flu shot! Each year the flu shot changes in order to fend off what is expected to be the most common strains of the flu for the year. The flu vaccine carries dead or weakened strains of influenza, triggering antibodies to form within the body to protect you against the flu. Between 2005 and 2014, the flu vaccine was found to prevent approximately 40,000 deaths. It is recommended that anyone older than 6 months receives a flu vaccination each year unless you have severe allergies to the vaccine or any of its ingredients.
Practice good health habits. Although you should practice good health habits all year round, it is especially crucial during flu season. The flu is extremely contagious and can be spread by standing within six feet of an infected person who coughs or sneezes. In order to minimize the spread of the flu, avoid close contact with people who or sick or with others if you are sick. If you have flu-like symptoms, stay home from school or work until 24 hours after your fever has disappeared. Make sure you are washing your hands thoroughly! If it is not always possible to wash your hands, carry an alcohol-based hand sanitizer with you. Cover your coughs and sneezes, preferably with a tissue, and immediately dispose of it. During this time of year, it is also imperative to regularly clean and disinfect surfaces you and others come in contact with.
Support your immune system. When your immune system is in tip-top shape, it can attack diseases that enter your body more aggressively. Typically, the immune system can regulate itself with no problem, but there are health disorders that can make self-regulation more difficult. There are healthy living strategies you can implement in order to strengthen your immune system. Add more fruits and vegetables to your diet, exercise frequently, aim for seven to eight hours of sleep each night and reduce stress to improve your immune system.
If you happen to come down with the flu, Touchette offers lab testing for infections like the flu, mono, and strep throat - with a provider's order. Outpatient lab collections are available on a walk-in basis with a provider's order and are collected every day from 7:00 a.m. to 7:30 p.m. For questions about lab services, call at 618.332.5472 or click here.