Blog
Find out if Physical Therapy can help your lingering ailment
June 4, 2018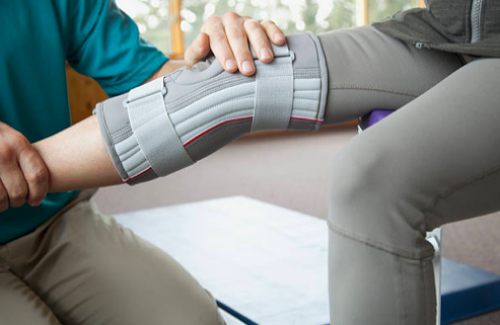 You hear the term often: physical therapy or PT. What does this mean? What does a PT do? Should you see a PT? Are there health benefits that you may be missing by not seeing a PT? You have questions, but don't worry, we have answers for you.
According to the American Physical Therapy Association, PTs are licensed healthcare professionals who help patients reduce pain and improve or restore mobility. You would most commonly see a PT if you suffered from an injury or illness that has hindered your ability move. A program customized to your individual needs will help you get back to your original levels of movement.
You should note that you can benefit from PT even if you haven't experienced an injury or illness. They are known as "movement experts." Check out just how beneficial PT can be for your overall health and wellbeing.
In the event you are hurt to the point that surgery is suggested, PT can help you avoid it. By reducing and/or eliminating pain you feel from an injury, going under the knife may be a thing of the past. And even if you can't evade a surgical procedure, PT beforehand will certainly help your recovery - resulting in fewer dollars spent on hospital bills.
You and others may not know that PT can help individuals who have suffered a stroke with their recovery. After a stroke, it is not uncommon for a person's function and movement to be hindered. With regular PT, a person will regain strength in areas of their body that were affected. Posture, balance, walking, and all generalized movements will begin to improve, thus allowing an individual to regain their independence after this traumatic event.
Would you ever think that PT can help with women's health? Well it can! Don't be afraid to ask your PT about specific women's health topics. They can devise a program that focuses on your health, balance, and movement during pregnancy and even postpartum. In the event you'd like to manage further health concerns, PTs can develop treatment plans for breast cancer, pelvic pain, urinary incontinence and others. All you have to do is mention it and they'll take care of the rest!
If you feel like old age is creeping up on you, and that you're developing age-related illnesses such as arthritis or osteoporosis - start going to PT. A regimen put together specifically for you will certainly help manage joint pain and other health conditions. Treatments can help restore muscle and joint function, and even prevent your pain from returning altogether.
The PT team at both Touchette Regional Hospital and our Medical Specialist locations treat patients of all ages. Our therapists are committed to helping you return to an active life as quickly as possible through individualized treatment plans. Regardless of the source of your pain - sudden injuries, brain and spine disorders, post-surgery or chronic conditions - the licensed staff at each of our locations will ensure you overcome any limitations and achieve a full recovery. Don't let another painful day go by, call us at 618.332.5450 or 618.337.9461.