Blog
Bringing Healthcare Services Home
March 7, 2018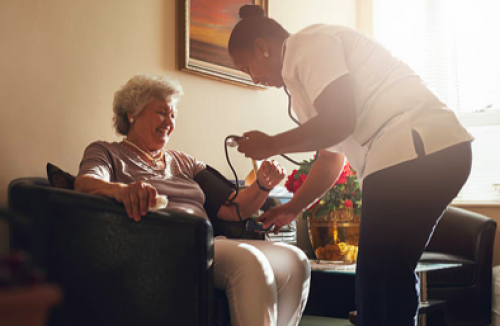 Facing the reality of an aging loved one can be difficult. There are many worries, concerns, and anxieties that accompany this life stage, but homecare shouldn't be one of them. We can help you get better acquainted in your new role as a care-giver to the aging individuals you love and care for.
Give them choices:
For an aging individual in need of care and assistance, it is important to maintain their self-worth. Include them in all conversations related to their care. Ask them their thoughts, feelings or opinions regarding medical recommendations. Clearly explain all aspects of what their day-to-day care will entail - making sure they fully understand and know what to expect. Allowing your loved one to take part in making decisions pertaining to their own health, will strengthen their dignity and feelings of independence.
If their ability to process information slows or their memory fails more often than not, try reconsidering ways for them to actively participate in decision-making. One way to do this is to write out a list of options for them. By showing your loved one an organized list repeatedly, it can assist them in fully understanding options and choices. Prioritizing items on the list will help them familiarize with what is most important about their care. By listing, prioritizing, and discussing health-related matters, the aging individual can rest assured that their wants and opinions are important and taken into consideration.
Communication is key:
As a care-giver, speak clearly to those who are aging. Nearly 50% of individuals older than 75 have hearing loss. Make it a point to speak louder than you normally would and also a bit slower to ensure your loved one hears and follows what you're saying. Keep your sentences brief, easy to understand, and speak in a calm tone.
Also, pay attention to what's going on around you. If there's unnecessary noise from a TV or radio, turn it down so you're not having to yell. Your loved one shouldn't feel overwhelmed with trying to hear you over background noise. If possible, speak with them face-to-face. If they are in a wheelchair, sit down so you are at their level. It can be intimidating to them if you are standing over them while having a conversation. By coming down to them, you will make them feel like you are truly engaged and wanting to hear from them.
Relationship building:
The transition from independence to dependence can be an emotional one; not just for your loved one, but for you as the care-giver. They have spent most of their life caring for themselves and making their own decisions based on their needs - until now. Be compassionate and selfless. Not only is this a new role for you as their caregiver, but it is as well for them as the care receiver. Work together, agree and compromise. Have regular discussions about each of your new roles and make decisions together. You will both feel invested in the day-to-day plans, which will hopefully build a strong, deep-rooted relationship.
Through Touchette Regional Hospital's Home Health program, services are delivered (at home) to recovering, disabled, chronically ill or terminally ill individuals. Skilled home healthcare allows patients to stay in the comfort of their own home while receiving the medical attention they need. The qualified professionals with Home Health have more than 200 years of collective home care experience. Let us bring healthcare services for your loved one, to your home. Call us today at 618.332.6120.