News & Events
Family Tree Community Fair on August 6th Offers Metro East Families a Day of Fun and Education
July 11, 2016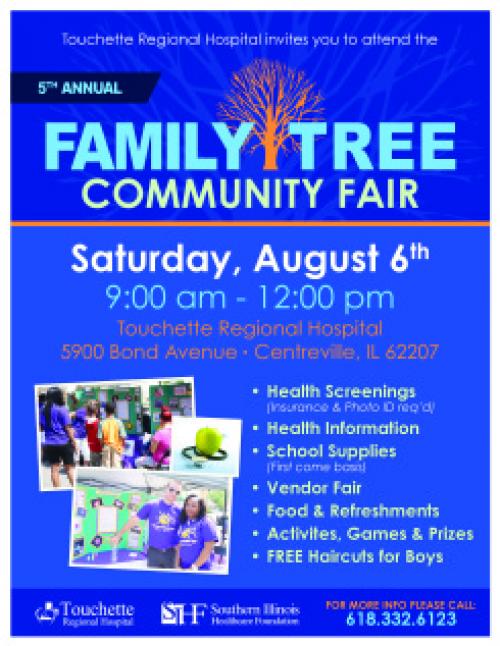 Touchette Regional Hospital in Centreville, Ill. will once again host its annual health event and back-to-school kickoff for hundreds of families in the Metro East.
The Family Tree Community Fair, its fifth annual community event, will provide participants with access to free school supplies and free boys' haircuts to prepare kids for the upcoming school year and health screenings to keep every family member healthier year-round. In addition, this fun-filled health education event includes games, activities, food, and prizes.
The Family Tree Community Fair runs from 9 a.m. to 12 p.m. on Saturday, August 6, 2016 at Touchette Regional Hospital, 5900 Bond Ave. in Centreville. This event is free to all participants. For more information, call 618.332.6123.
During the event, Touchette and its affiliate, Southern Illinois Healthcare Foundation, will host health information booths highlighting a variety of services and programs, from Emergency Care and Behavioral Health & Wellness to Healthy Start prenatal education and START NOW breast cancer awareness. In addition, community partners will be on hand with programs local families need.
"We want to make accessing quality healthcare and social services as easy as possible for the community," said Felecia Jackson, business development specialist for Touchette. "Through the Family Tree Community Fair, families will learn tips to lead their healthiest lifestyles possible and know where to turn if the unexpected happens."